Aragon Ballroom
Chicago, Illinois
---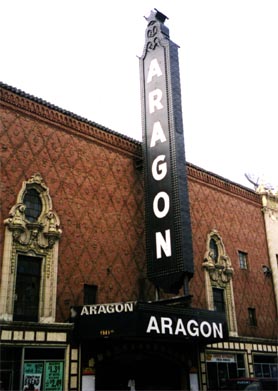 Source: Wikipedia
Chicago's Aragon Ballroom, located on West Lawrence Avenue approximately five miles (8 km) north of downtown, was built in 1926. Designed to resemble a Spanish village and named for a province of Spain, the Aragon was extravagantly appointed. The hall was an immediate success, and remained a popular Chicago attraction through the 1940s. The Aragon's proximity to Chicago's "el" trains helped people flock to the hall, and crowds often exceeded 18,000 guests over the six open nights each week. Powerhouse radio station WGN broadcast an hour-long program from the hall each night.
The Aragon hosted nearly all of the top names of the big band era. Among the best known names were Frank Sinatra, Tommy Dorsey, Xavier Cugat, Glenn Miller, Lawrence Welk, Guy Lombardo, Dick Jurgens, Harry James, Kay Kyser, Benny Goodman, Sammy Kaye, Artie Shaw, and many others.
A fire at an adjacent cocktail lounge in 1958 forced the Aragon to close for several months. After the reopening, crowds declined significantly. Regular dancing ended in 1964. A succession of new owners used the Aragon as a roller skating rink, a boxing venue, and a discotheque, among other uses, plus occasional efforts to revive it as a traditional ballroom. During the the 1970s, the Aragon has home to so-called "monster rock" shows, which were marathons of rock and roll acts often lasting six hours or more. Top acts included the Grateful Dead, The Byrds, B. B. King, Jethro Tull and others of that era. Those shows also brought problems with illegal drugs and the attendant crowd control issues, and the Aragon gained a rough reputation.
In 1973, Latin promoters Willy Miranda and Jose Palomar became owners of the Aragon. The two men had promoted Hispanic dances and concerts in Chicago for years, and moved their productions to the Aragon with the purchase. They soon teamed up with rock promoters Arny Granat and Jerry Mickelson, who used the hall for their rock concerts.
Today, under the name Aragon Entertainment Center, the hall hosts a variety of Spanish-language shows as well as English language rock concerts. Recent rock acts include the Black Eyed Peas and Slayer.


---

Return to Ballrooms Page

Lonny Lynn Home